Racing with Aloha
An Inspiring Journey from Humble Barefoot Maui Boy
to Champion in the Water
Written by: Fred Haywood
Foreword by: Laird Hamilton
No one knows who first put a sail on a surfboard, but everyone would agree that Fred Haywood pioneered the sport of windsurfing. Fred and his friends sponsored Maui's first wind sailing events, opened the first windsurfing shop on the island, and attracted world-class sailors to the island.
Fred has a blend of the intellectual, philosopher, athlete, adventurer, quiet warrior, and curious student. This book entertains, informs, and inspires. There are heroes amongst us, and Fred is one of mine.

– Laird Hamilton
When he broke the world record at the premier contest in Weymouth, England, and months later dazzled devotees around the world with photos showing him conquering "the biggest wave in the world" at Ho'okipa Beach, photographers, filmmakers, TV, and magazines flocked to Maui's quiet north shore. Dozens of more exceptional athletes followed. Soon every major sailmaker and board manufacturer had a sail loft and shaping room on the island, making Maui the windsurfing Mecca of the world.
Fred Haywood is an icon of windsurfing, but few know he is also an Olympic contender who swam a record-breaking backstroke alongside his friend Mark Spitz. Before he discovered speed sailing, he surfed with the likes of Gerry Lopez, exploring exotic undiscovered surf spots around the world. Only his friends know how deeply growing up on the island of Maui influenced him to carry his success with humility and generosity. Everyone he competed with experienced his desire for camaraderie over competition, his preference for fun over fanfare.
Racing with Aloha is part adventure tale, part spiritual memoir. In it, Fred Haywood relates delightful exploits of growing up on a remote tropical island in a time before tourism, when boys could run in almost-feral packs on the beach, through the jungle, and in the ocean. He shared an ocean swimming pool with sharks and jellyfish during early morning high school swim training. A chance meeting with a youthful Mark Spitz led to a championship swimming career with the celebrated Santa Clara swim team and at Stanford University. He surfed isolated Indonesian beaches and competed in world-renown windsurfing contests, from the South Pacific to the coast of Africa, during the sport's heyday.
From being one of the best swimmers on the planet to becoming the fastest man on a windsurfer and so much more, I am honored to know someone as humble and inspiring as Fred Haywood.
– Kai Lenny
Racing with Aloha weaves throughout the inspiration Fred Haywood's dad instilled in him, which blended a pervasive commitment to accomplishment with a liberating attitude that all is well—all the time. Fred embodied his father's lessons to become a professionally successful, easygoing, sincerely humble man who is respected and beloved by all—friends and competitors alike.
Racing with Aloha is a delightful story that will enchant anyone who loves or longs for the timeless mystique of the Hawaiian Islands. It will enthrall the reader with accounts of a time before visitors poured onto the island—when Maui was virtually undiscovered and uninhabited. Young readers will love the story of a youth who swam with sharks—by accident, of course—and was as surprised as his coach and teammates to find himself featured in Sports Illustrated magazine.  Water aficionados will long for the days of surfing undiscovered beaches. And the countless windsurfing enthusiasts who trekked to Maui in the 1980s, following in Fred's wake, will relish the memories he shares of windsurfing the legendary beach still boasting the biggest waves in the world.
I have a single, enduring image of Fred—a man smiling broadly, ready for what storms may come. In my mind, he is always carrying on toward some new and wondrous place just beyond the horizon for that last biggest wave to ride, the last fastest windsurfing run, or the last swim meet we swam in together.  – Mark Spitz
ORDER NOW!
Racing with Aloha
is available at your favorite bookseller.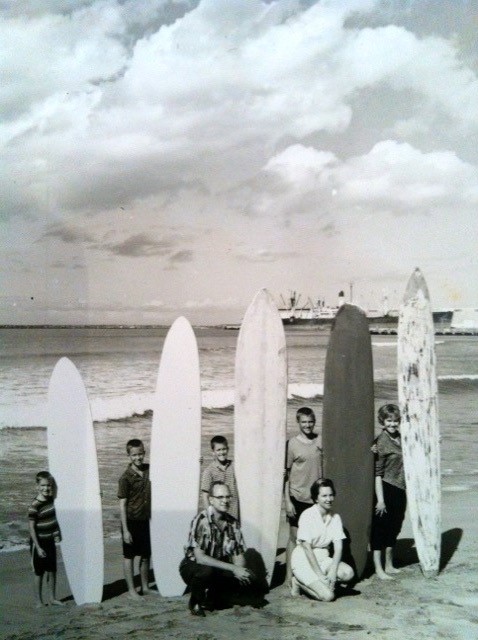 Fred Haywood was born on the island of Maui a decade before Hawaii became a state. The son of a sugar plantation doctor, he grew up playing with the neighbor kids, who were Hawaiian, Japanese, Chinese, and white. He and his four siblings played in the waters off Kahului Harbor on their own balsawood surfboards and El Toro sailboats. He and his buddies trekked around the island, surfing, camping and diving for fish from Honolua Bay to Hana.
When Fred was seventeen, he left home to join George Haines's world-famous Santa Clara swim team. In 1967, he and Mark Spitz were the first high school students to win the National Championships in Dallas, Texas, and Fred became the fastest backstroker in America. Fred was a silver medalist at the 1967 Pan American Team and became a multiple NCAA and American record holder. He went on to swim for Jim Gaughran and became the swim team captain at Stanford University. Fred continued his winning ways in another water sport, in 1983 breaking the world speed record in Weymouth, England, to become the fastest windsurfer in the world, a record he held for three years.
Fred Haywood excelled in windsurfing competitions until, at the practically ancient age of forty, he gave up his professional sports career to raise a family and sell real estate on his beloved Maui. He is now one of the most successful realtors on the island and a popular teacher for realtors around the country.