When we met, Fred was already famous as a powerful wave sailor riding the biggest waves. He was focused on becoming the fastest man on the water to break thirty knots on a windsurfer. This goal was at the time a magical number that was attracting sailors everywhere; it was the four-minute mile of sailing, an objective still out of reach then, too.
Neil Pryde provided the resources that enabled Fred to work with Barry Spanier to create the sail and rig and take Fred to England, where he cracked thirty knots on a Neil Pryde sail. This achievement underpinned the Neil Pryde brand's marketing that spread our market worldwide, becoming the world leader in windsurfing equipment, the world's fastest sails. I remain forever grateful for Fred's contribution to the growth and reputation of the Neil Pryde brand.
-Neil Pryde
Maui is forever changing. Fred grew up on Maui, and he has documented a historical perspective of a lifestyle that once was. His story captures the beauty and experiences of life on Maui, which is the essence of aloha. 
-Kim von Tempsky
I met Fred on the pool deck of Santa Clara Swim Club, coached by George Haines, the greatest coach in the world. Quickly, Fred developed into a national champion. Fred's story is quite remarkable. This book is the story of Fred's inner self, not athletics. What makes a champion in life? How does a man grasp a love of living and aloha? Why does a man have a desire for excellence and vision with so many endeavors? I am blessed to be part of this journey.
-Rick Eagleston
As Stanford's swim coach in 1968, I was fortunate to have Fred choose Stanford as his university and swimming future. He will always be remembered as one of Stanford's great swimmers. 
-Jim Gaughran
By the time I got to Maui in 1985, it was a windsurfing Mecca, and Fred Hawyood was a legend in the sport. When I got to meet Fred in person, I was struck by his generosity in sharing his knowledge that would help my professional windsurfing career. At Fuertaventura, I got to hang with the "titans" of the sport: Fred Haywood and Laird Hamilton. I remember feeling very small at the time, next to them. But that meeting opened doors for me. Fred has always been an inspiration for me – after all these years, I still consider him a great friend. 
-Anders Bringdal
Fred and I became friends when I started building windsurfing boards for Sailboards Maui in 1981. I made the board Fred took to Weymouth and made windsurfing history when he broke the thirty-knot barrier on it. Because I had made that board, I was able to tag along on his coattails to successes of my own, which continue to this day. But more important to me is what Fred had meant to me personally as a friend. He has helped me out simply because he cares, with no other agenda and no expectations of anything in return. That's the Fred Haywood that many people here on Maui know the same way I do.
-Jimmy Lewis
Racing with Aloha shares Fred Haywood's rise from "Fred Who" to becoming the fastest backstroker in America at age seventeen and the fastest windsurfer in the world in 1983, a title he held for two years. He vividly describes growing up on the magical island of Maui in his formative years and the values he learned from his parents of working hard, setting goals, determination, and gratitude. This book is filled with humor, inspiration, humility, and sincerity that will be enjoyed by all ages.
-Joanie Madsen, former elementary school teacher and librarian at the Haleakala Waldorf School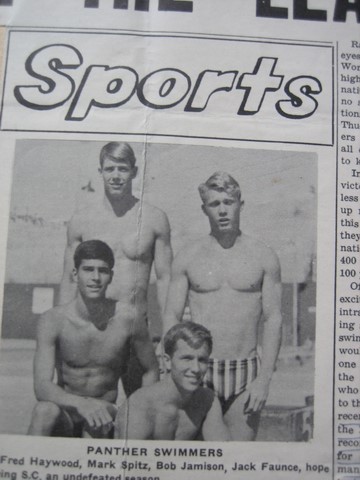 What an incredible life adventure! I was fascinated with one challenge after another, and Fred didn't skip a beat. I found his history of growing up on Maui intriguing and his relationship with his father heartwarming. This will be a good read for anyone, water person or not. 
-Larry Gilbert
Beyond the Olympic trials in Long Beach, he hardly missed a beat and went after "What's Next" with no fear or misgivings about the uniqueness of his journey. Fred had ten more Long Beaches…and aced every one of them, taking for his prize perfect, vibrant, and profound memories of what he convincingly showed to be the purpose of drawing breath: enjoying the experience.
-John Ferris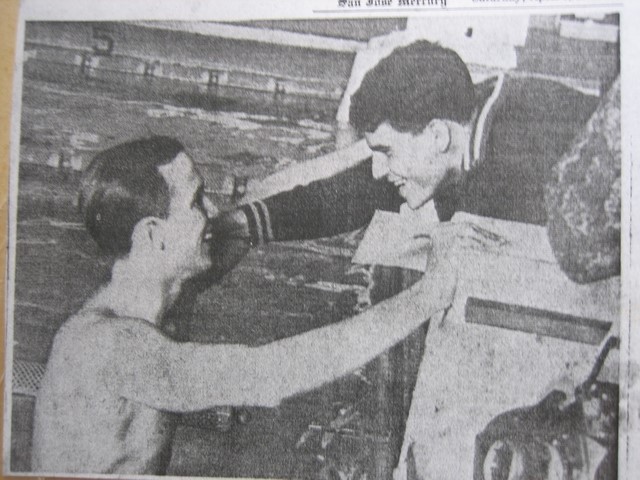 From the water to real estate, Fred has attracted many coaches and mentors. He followed their guidance very closely and has produced incredible results. I hope you will enjoy Fred's story as much as I have. The adventures continue as he shares his aloha with the world.
-Dano Sayles
The innovation, the creativity, the camaraderie, the smiles, the laughter, the sun, the waves, the fear, the joy…Racing with Aloha tells of an era of icons and innovations on the water.
Without Fred's enthusiasm and belief in windsurfing, I'm convinced that Maui would never have become the sport's Mecca. What started as a passion for just a few people became the epicenter of a worldwide industry. Even after windsurfing began to fade, new sports inspired by our same group of friends would fill the gaps. Kiteboarding, stand-up paddling, tow-in surfing, and foil boarding are, in a sense, all spinoffs from windsurfing. The same core group of windsurfing athletes pioneered each of these sports, and Maui was the epicenter for all of them.
Every day was an adventure, and nobody tells of the adventures better than Fred Haywood in Racing with Aloha.
-Mike Waltze